Time Resistance bags are not just mere accessories but rather a canvas where their unique story of experiences, achievements, and adventures becomes embodied. Every Time Resistance leather bag is destined to tell a unique and magnificent story of the life of its owner. They are thoughtfully designed and crafted to serve that purpose and to get better with age. They are like friends that accompany you on your journey through life, like wine that gets better with age, like you who are unique and magnificent in your own way. We want to provide you with the possibility, the inspiration, the urge to follow that example and carry a bag that will become a part of your own design, a representation of your life and your unique story.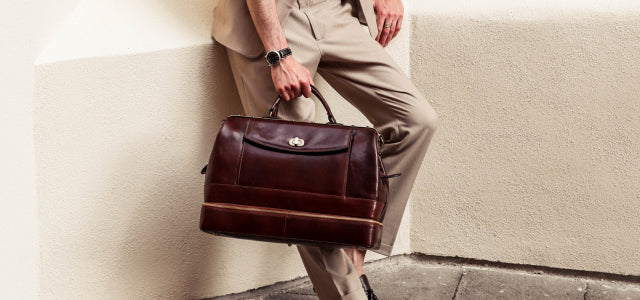 Timeless Art of Leather
At Time Resistance, we believe that leather is more than just a material. It is a form of art that transcends time and trends. That's why we chose the slogan Timeless Art of Leather to represent our brand and our values.
Timeless
Our leather bags are designed to last for generations, not just seasons. They are classic, elegant and versatile, suitable for any occasion and style. We use only the finest quality leather that ages beautifully and develops a unique patina over time.
Art
Time Resistance leather bags are crafted with passion and skill by our talented artisans. They pay attention to every detail, from the stitching to the lining, to create pieces that are both functional and aesthetic. Each bag is a work of art that reflects our creativity and innovation.
Leather
We respect and honor the natural beauty of this material. We source our leather from ethical and sustainable suppliers, and we use eco-friendly processes to tan and dye it. We celebrate the diversity and richness of leather, offering a variety of colors, textures and finishes.
Meet our core team, the people behind the scenes who make our company run smoothly and successfully.
Artūras
CEO
Donatas
BRAND MANAGER
Evelina
E-COMMERCE
Sandra
B2B
Indrė
VISUAL AIDS
Vaidas
LOGISTICS / IT
Vaida
QUALITY CONTROL
Neringa
HEAD OF PRODUCTION AND PROTOTYPING
Emilija
ASSISTANT TO THE BRAND MANAGER
Jolanta
DESIGNER
Indrė
MARKETPLACES
We serve customers from over 90 countries.
Time Resistance partners with carefully selected brand ambassadors.
We exhibit at various trade shows around the world including Liberty Fairs NY (USA), Mipel (Italy), Nordic Shoe and Bag Fair (Sweden), and ILM (Germany).
ILM is a trade fair that takes place in Offenbach am Main, Germany. It is one of the largest and most important trade fairs for high-quality leather goods, luggage, bags and accessories.
Mipel is another trade show that takes place in Milan, Italy. It is an international event that showcases leather goods and fashion accessories.
Nordic Shoe and Bag Fair is a trade show that takes place in Stockholm, Sweden. It is a platform for Scandinavian shoe and bag brands to showcase their products.
Liberty Fairs NY is a trade show that takes place in New York City, USA. It is a contemporary fashion trade show that showcases men's and women's apparel, footwear, accessories and lifestyle brands.
Our participation in trade shows allows us to showcase our products to a wider audience and to connect with other industry professionals. It also gives us an opportunity to stay up-to-date with the latest trends and developments in the industry.
Time Resistance is registered in the EU, the US, China and Australia.